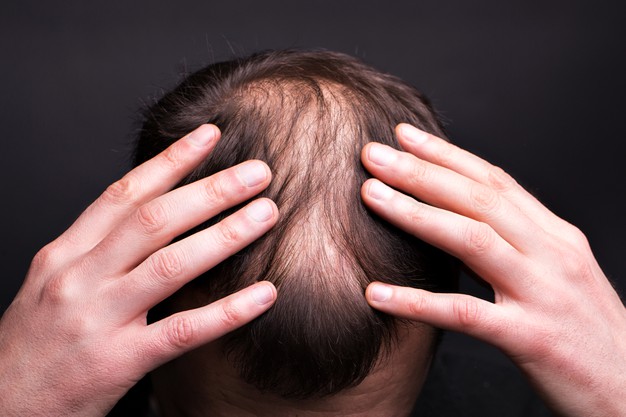 best hair transplant clinic in hyderabad - Fms skin & hair
In the past few decades, dermatologists, plastic and maxillofacial surgeons at FMS have played a pivotal role in enhancing the aesthetic value of the face through many surgical and non-surgical procedures, with hair transplantation being one of the popular choices. This lead to the opening of one of the best hair transplant clinic in Hyderabad – FMS SKIN & HAIR
The most popular procedure is transplanting micrografts, with two basic techniques of follicular unit transplantation (FUT) and follicular unit extraction (FUE).
FMS - Best hair transplant clinic in Hyderabad
Being the best hair transplant clinic in Hyderabad, at FMS Skin & Hair clinics hair transplantation is not only a promising procedure for male pattern and female pattern alopecia, but also for other causes of hair loss too; traumatic and burn scars on hair bearing areas, alopecia following surgical procedures (i.e. Craniotomy, rhytidectomy procedures), redo hair transplantation, congenital reasons like cleft lip scenario etc. Today, hair transplantation procedures are extended to patients who want to strengthen a weak hairline, lower the hairline or fix missing facial hair on the moustache, beard, eyebrows or eyelashes.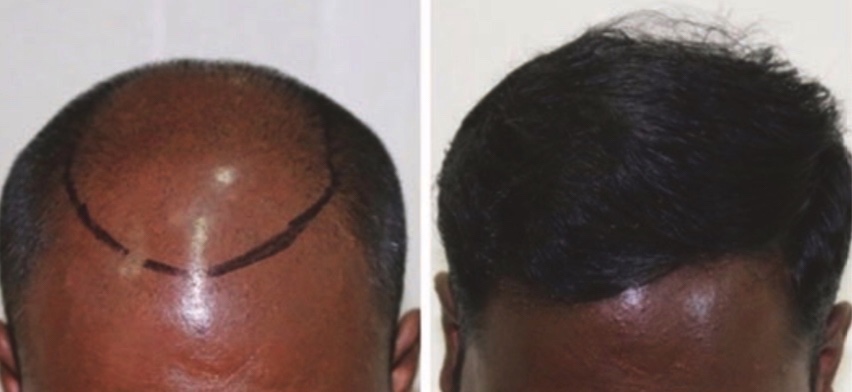 Let's understand the microanatomy of Hair
Hair has two parts – a living part under the skin extending into the dermis known as follicle and a non-living keratinised part above the skin called hair shaft. The lower part of the follicle known as the bulb is very vital as it's the one involved with regeneration and most of the stem cells are located there. Hence while implanting, holding the graft above or beside the bulb is important to ensure sustenance of regenerative potential.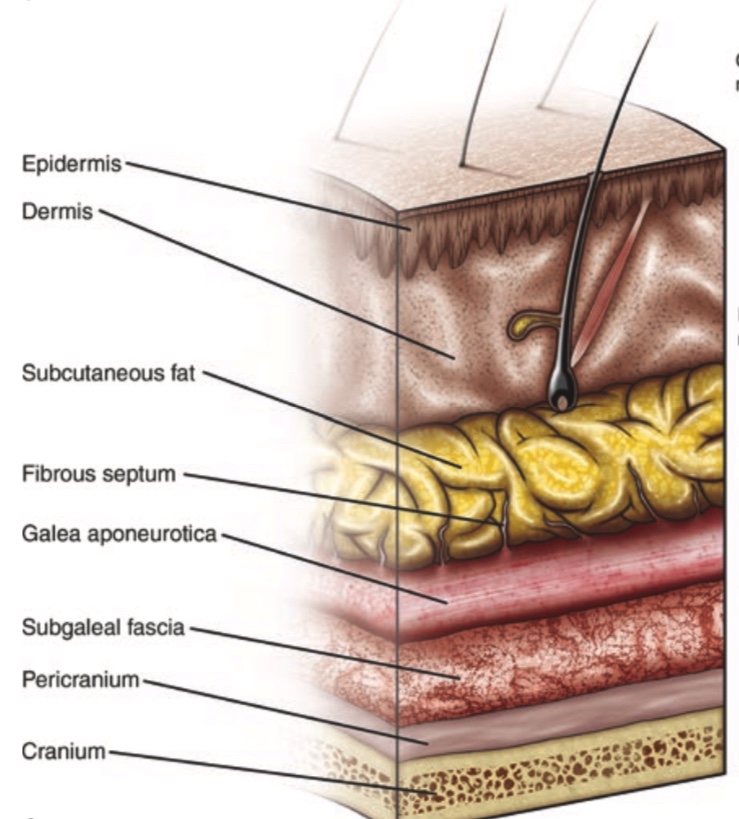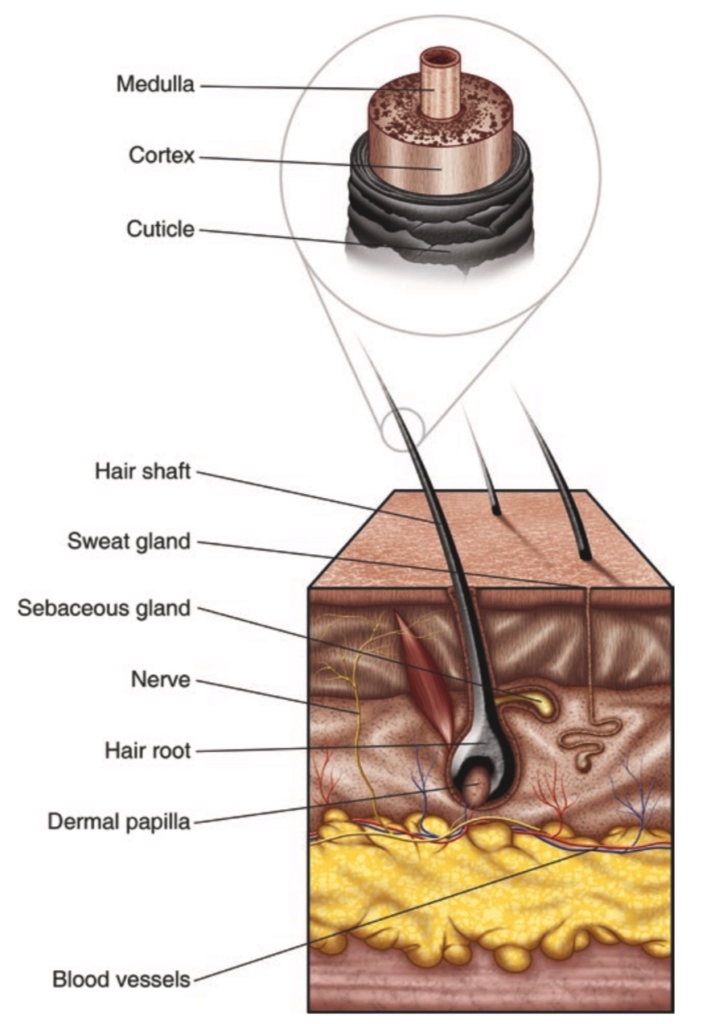 SCALP - is the skin covering the skull
Understanding the 'Zones of the Scalp' is important to understand your hair loss and transplantation. Typically, the areas of male pattern hair loss are horseshoe shaped and are divided into three zones.
Frontal—extends from the hairline to the mid-scalp and is curvilinear.
Mid-scalp—is at the top of the head. This horizontal area is bordered on both the sides by the temporal parietal areas and is sandwiched between the frontal zone anteriorly and the vertex posteriorly.
Vertex or crown—the most posterior rounded area and characterised by whorl arrangement of hair. This is the toughest area to transplant hair.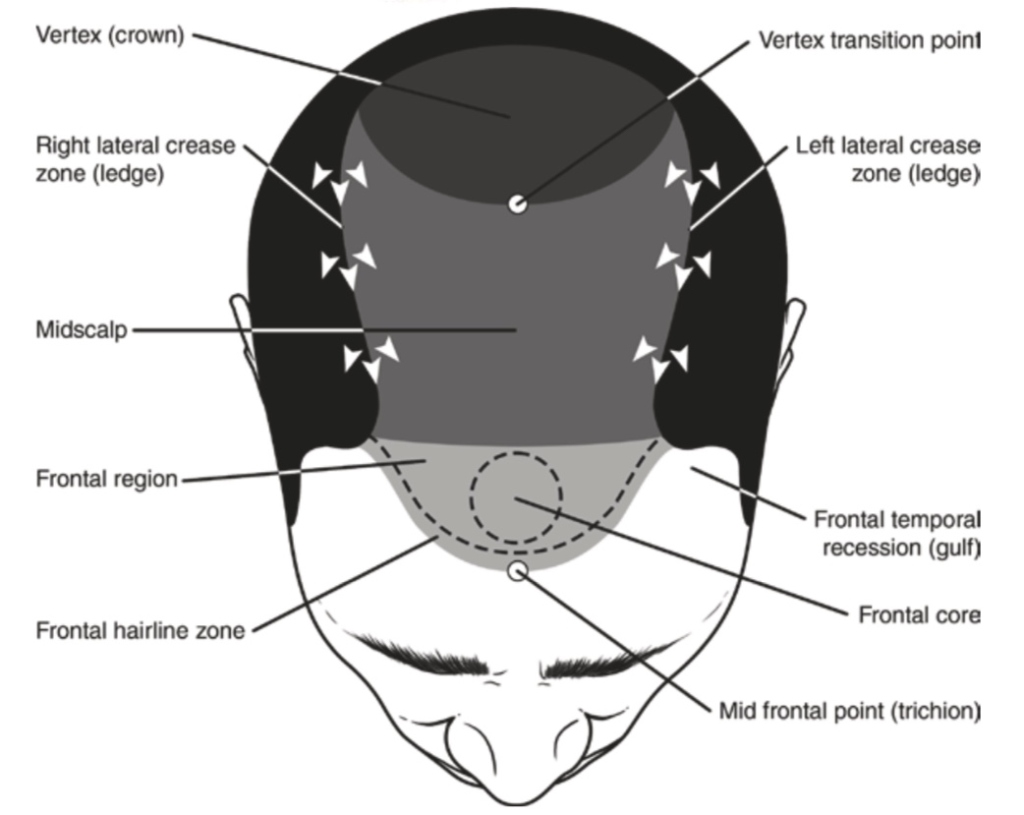 Growth Cycle and Hair Loss
The normal human scalp contains between 100,000 and 140,000 follicles with hair being arranged in follicular units, small groups of 1–4 hairs each. There are approximately 50,000–60,000 follicular units on the human scalp. Testosterone hormone is the main regulator of hair growth. Human hair does not grow constantly and evenly but grows in phases and in cycles.
Anagen is the growing phase of hair that accounts for 85% of the hair growth, during which hair grows at 0.5 inch per month for up to 10 cm per year. Anagen is followed by catagen and this phase is the end of active hair growth. Telogen is the final phase of the hair cycle where the aged hair fall out and new ones push themselves out of the skin.
People often confuse hair fall with hair loss. Hair fall is common in every individual. Around 10–20% of total hair will be under the shedding process. That hair will grow back in 3 months. On average 80–60 hair strands fall is considered as normal.
Basic Requirements for Hair Regrowth
Regulating dihydrotestosterone levels in the blood
Ensuring normal supply of balanced nutrients to the hair roots
Proper blood circulation to carry the nutrients to the roots in the scalp
Maintaining good health through general well-being of the individual
Male pattern hair loss or Androgenetic Alopecia
As the word suggests hair loss is a result of both androgens and genetic factors which work together causing the clinical effect of baldness. Though there are many reasons for hair loss, androgenetic alopecia is the most common reason and accounts for 95%. Fortunately, it can be treated with hair transplant surgery at FMS , bieng the best hair transplant clinic in Hyderabad.
The diagnosis of androgenetic alopecia is supported by a family history of hair loss, although a positive history is not always identified. There is a slightly greater incidence of having a positive history on the mother's side but the inheritance of male pattern hair loss can come from either side of the family.
The factors leading to hair loss could stem from internal/external factors.
Internal Factors 
Factors which internally lead to deficient hair growth are iron deficiency, calcium deficiency, zinc deficiency, general debility, anaemia, hypothyroidism, deficiency of the fat soluble vitamins, thyroid problems, insulin resistance, metabolic disorders like gout and PCOD, prolonged illness, emotional turmoil following surgery and individuals with seborrheic scalp.
External Factors 
Lifestyle and environmental factors do influence the hair health and growth cycle. The common causes are smoking including passive smoking, stress, alcohol intake, lack of sleep, crash dieting, fad diets, high-protein diet, exposure to extremes of heat or cold, less intake of fluids, poor scalp hygiene, dust, pollution, fumes and exposure to endocrine disrupting chemicals.
How do we identify and grade hair loss?
At FMS, the best hair transplant clinic in Hyderabad, seniors hair transplant surgeons work round the clock in analyzing your hair problems. Norwood classified 7 different types of male pattern hair loss and identifying your type of hair loss is the key to proper planning of hair transplant surgery.
Norwood Classification
Type 1 – Normal hairline with minimal recession of the frontotemporal area.
Type 2 – Patients present a symmetrical and mild recession of the frontotemporal area along with thinning of the hair.
Type 3 – Patients define balding with minimal or nil in the frontal areas and a deep recession.
Type 4 – Patients present with significant recession and loss of both frontal and vertex hair with a bridge of her between the two still retained.
Type 5 – Patients present a progression of the type four category with only a thin and narrow bridge of hair between the frontotemporal and the vertex areas.
Type 6 – Loss of hair that separates the frontal and the posterior vertex areas with further progression in lateral and posterior zones.
Type 7 – Most severe form of balding with only a band of hair remaining in the low occipital and temporal areas with extensive miniaturisation of the hair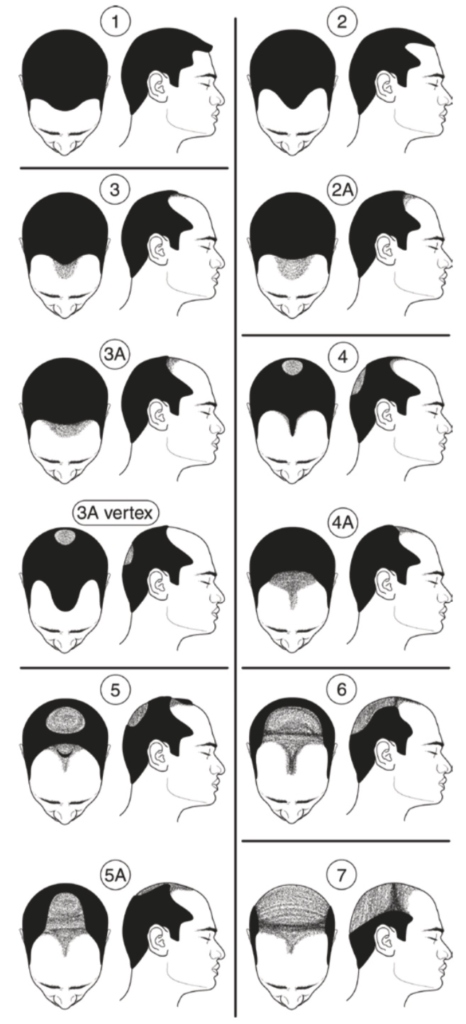 Classification of Hair Loss in Women
The Ludwig classification has three stages to describe female pattern genetic hair loss. In all three Ludwig stages, there is hair loss on the front and top of the scalp with relative preservation of the frontal hairline. The back and sides may or may not be involved.
Type I (mild) – there is early thinning of hair that can be easily camouflaged with proper grooming. Type I patients have too little hair loss to consider surgical hair restoration.
Type II (moderate) – hair loss has significant widening of the midline part and noticeably decreased volume. Hair transplantation may be indicated if the donor area in the back and sides of the scalp is good.
Type III (extensive) – there is a thin, see-through look to the top of the scalp. This is often associated with generalised thinning over the entire scalp. Often patients that have progressed to this stage have too little donor hair to do hair transplantation.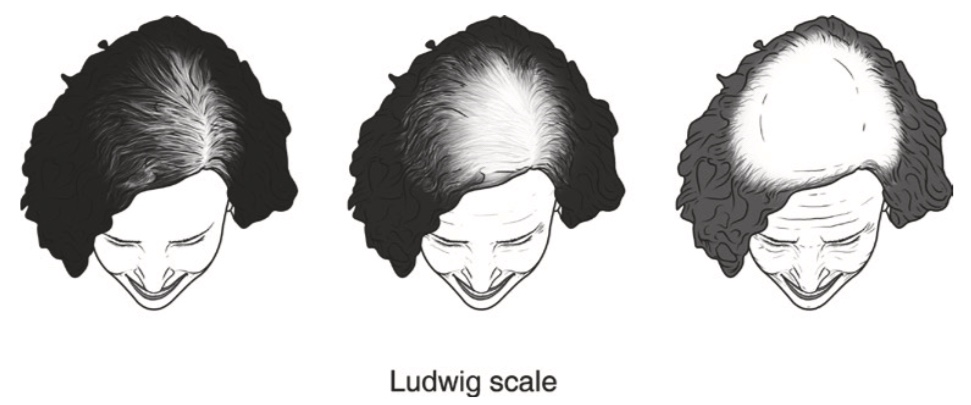 Other rare alopecias observed among the patients visiting our hair clinics are:
Alopecia areata: An autoimmune disorder which starts with small round and punched out areas with no hair. These areas have very smooth skin and not even a single hair is present in the area.
Alopecia totalis: there is total loss of scalp hair.
Alopecia universalis: there is total hair loss in the body including the eyebrows.
Turban alopecia: caused due to tight turban usage. It affects frontal and parietal areas mainly and is seen among Sikhs.
Trichotillomania: a psychiatric disorder where the individuals deliberately pull their hair every day leading to hair loss in those areas.
There are only 2 drugs approved by FDA and have proven their efficacy in the management of hair loss.
Minoxidil : A hair growth drug, which was initially approved as an antihypertensive agent and was found to have side effects of hypertrichosis. It is available as an over the counter drug with 2% formulation for women and 5–10% formulation for men as topical solution and gel. It improves hair count, weight and growth of hair. Post transplantation too has been found to decrease the shedding of hair and speeded up the time to the onset of hair growth by applying it to the scalp twice daily for at least 4-5 months.
Finasteride :Finasteride is a drug which is used only in men for androgenetic alopecia. It can cause loss of libido and oligospermia in a few individuals. However, this side effect is reversible once the drug is discontinued.
Cyclical Therapy :Vitamins with calcium supplements are given on the first day, followed by iron and mineral combination another day of the week and finally amino acid blend is given. The basis of this therapy is that hair requires nutritional support during their anagen growth phase and also for its maintenance.
Platelet-rich plasma (PRP) :It is an autologous product which has many concentrated growth factors in it and has demonstrated good results in reducing hair loss and has shown to enhance hair counts. It is prepared in a three-step process where blood is drawn, processed and injected into the scalp every fortnight for 4–6 sittings, and this also can be combined with the standard medical therapy.
LLLT :Low-level laser therapy — also referred to as red light therapy and cold laser therapy irradiates photons into scalp tissues. These photons are absorbed by weak cells to encourage hair growth.It's widely accepted that the procedure is safe, tolerable, and less invasive than hair transplant surgery.
We start with a Clinical Consultation assessing the :
General health of the patient (with a focus on endocrinal conditions affecting hair like thyroid disease, uncontrolled diabetes, polycystic ovarian disease in females etc).
Family history of hair loss.
Past medical management of hair loss and personal hair care regimen.
Any past hair transplants.
The pattern of the hair loss.
Expectations and motivation levels of the patient
The next focus of the clinician is the donor site assessment to verify the :
Presence of any white hair.
Check the elasticity of the scalp.
Density of the hair follicles per square centimetre,
Calibre of the hair (thick vs. thin).
Presence of curly or straight hair.
Rule out any existing scars.
Skin pathology including dandruff and infections.
The assessment of the recipient site will focus on:
Quality and quantity of remaining hair.
Grade of balding and the pattern of hair loss.
Previous results of hair transplantation.
Skin to hair contrast.
Direction of the existing hair and existing skin condition.
Best Hair Transplant Clinic in Hyderabad
Based on the case and having assessed the areas requiring hair transplantation, the number of follicular units required per square centimetre (around 30/cm2) is calculated to arrive at the number of follicular units to harvest.
The FMS HAIR CLINIC Concept of Hair Transplantation
AT FMS the concept basically is micro- follicular unit transplantation.
We practice the Follicular unit transplantation (FUT) or 'strip technique' as the gold standard method for hair transplantation. The refined 'punch method' of harvesting the follicles or Follicular unit extraction technique is also a popular technique of hair transplantation in some specific cases.
The principle behind hair transplantation is that, hair grows on the back and sides of the scalp tends to be permanent in most of the individuals which are resistant to androgenic alopecia and are used to implant into the frontal or vertex area which will continue to grow as long as occipital hair grow.
Hair transplant surgery demands good planning, great surgical skill and good aesthetic sense on the part of the clinician, as hairs grow in specific directions and angulations. The trichologists at FMS are internationally trained with good clinical acumen.
So how do we prepare you for Hair Transplantation ?
Routine blood tests consisting of Complete blood picture, Sugar levels and Serology are done for every case.
In patients with any underlying medical conditions, further investigations as deemed necessary and a medical fitness is obtained from the physician.
All patients are advised to stop topical minoxidil at least a week prior to transplant.
Photographs and consent for the procedure are obtained
FMS SKIN & HAIR CLINICS, Advanced Cosmetic Clinic Jubilee Hills Hyderabad India
Door No. 8-2-293/82/A/725/A, Road, No. 37, Hitech City Rd, near Daspalla Hotel, CBI Colony, Jubilee Hills, Hyderabad,
Telangana 500033
Phone: +91-88850 60760 / , Hours: Sunday: 10:00 AM – 07:00 PM ; Mon – Sat: 09:00 AM – 09:00 PM
Direction |
View Large Map
FMS SKIN & HAIR CLINICS, Kondapur Hyderabad
India
H. No. 1-111/3/B, 3rd floor, Pranav Tej Towers Above Vijetha Super Market, Gachibowli – Miyapur Rd, opp. KIMS Hospital, Hanuman Nagar, Kondapur, Telangana 500084
Phone: +91-88850 60760 / , Hours: Sunday: 10:00 AM – 07:00 PM ; Mon – Sat: 09:00 AM – 09:00 PM
Direction |
View Large Map
FMS is a brand, that runs much deeper than colors, logo or a statement. For us, it's a promise ……. a promise of quality
FMS Skin © 2020. All rights reserved. Terms of use and Privacy Policy