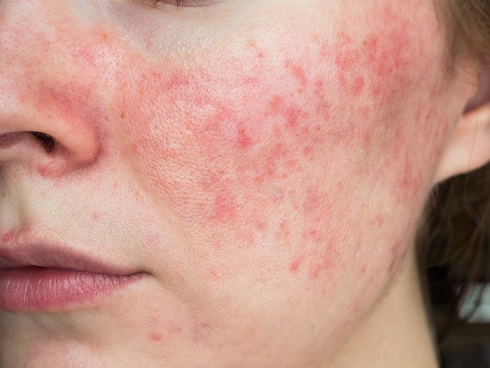 Is a inflammatory skin condition which causes blushing and flushing on the face (more commonly the cheeks, nose, chin and forehead)
The most common cause of rosacea is hereditary or autoimmune condition. It is exaggerated by eating hot and spicy food, over exposure to UV radiation, demodex mites, smoking, drugs like topical corticosteroids, GIT infection like H.pylori etc. Most commonly seen in women.
There are 4 different types of rosacea i.e., erythematotelangiectatic, papulopustular, phymatous and ocular rosacea.
There will be redness of the face followed either by sun exposure or by eating hot spicy food or hormonal factors. There may be burning or stinging sensation on the face along with a red flushed (non transient erythema) of the area involved. The symptoms are intermittent and may resolve in sometime if the exacerbating factor is removed. Other symptoms may be edema, telangiectasia, papules etc.
Avoidance of exacerbating factors which cause rosacea.  Strict photoprotection/ Sunscreen usage on daily basis. Topical agents like brimonidine, Azelaic acid, Metronidazole, Tacrolimus, clindamycin etc. can be used. Oral antibiotics like tetracyclines, oral zinc, ivermectin etc. can be used. Lasers which target the vascular component can be used ike long pulsed Nd:YAG, Ablative CO2 laser, PDL etc.