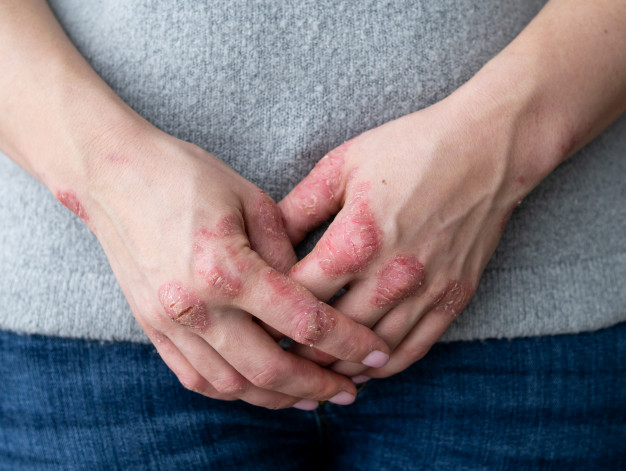 Psoriasis is an auto immune condition in which there are formation of red coloured patches or plaques with white silvery scaling.  It is usually hereditary or it can be precipitated by stress, alcohol, smoking, viral infection, hepatitis etc. In classical conditions, the lesions are present over the extensor surfaces. Usually affects skin, nails and joints.
There are many types of psoriasis. The most common type is plaque psoriasis in which there are plaques with silver scaling on the extensor surfaces. Other types are Guttate psoriasis, Inverse psoriasis, Linear psoriasis, Erythrodermic psoriasis, Elephantine psoriasis etc. Isolated conditions showing involvement of only scalp and nail are seen recently
HOW TO DIAGNOSE AND CONFIRM PSORIASIS?
Psoriasis is diagnosed clinically with the areas affected, type of lesion and grattage test which shows auspitz sign. It is confirmed by skin biopsy.
When the area of involvement is less or limited then it is treated with topical application of steroid along with Vit D analogues or coal tar preparations. Excimer laser can also be used for such conditions. When the extent of involvement is >20% then oral immunomodulators,
NB-UVB (phototherapy)
is used. When the treatment is recalcitrant to all treatment then biologicals can be used.