Injection Lipolysis Treatment in Hyderabad
This is where Injection Lipolysis, also known as "fat-dissolving injections" …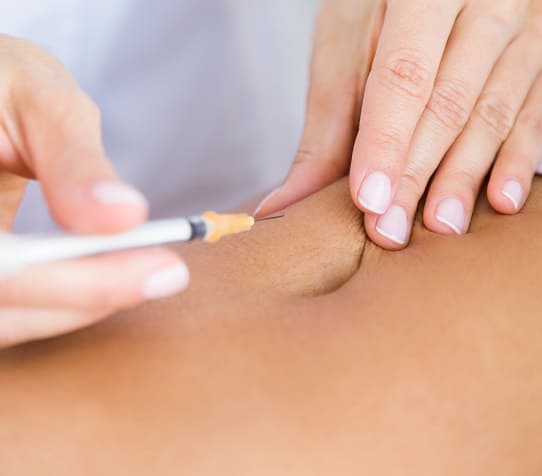 Injection Lipolysis Treatment: A minimally Invasive Solution for Fat Reduction
Individuals are constantly seeking different ways to enhance their physical appearance. Though healthy diet and regular exercise remain fundamental for a fit physique, sometimes stubborn pockets of fat is resistant to exercise and also diet. This is where Injection Lipolysis, also known as "fat-dissolving injections" or "lipodissolve" emerges as a promising non-invasive treatment option.
What is Injection Lipolysis Treatment?
Injection Lipolysis treatment, a minimally invasive procedure which involves injecting the lipolytic solution into targeted body areas to dissolve fat deposits, directly targeting the fat cells. The injected solution is a combination of Phosphatidylchline (PC) and Deoxycholate (DC) that helps in breaking down and absorbtion of fat.
This procedure is designed to reduce localized stubborn fat deposits in areas such as the abdomen, thighs, buttocks, and chin. It is effective in treating subcutaneous fat, which is located just beneath the skin.
How does this Injection Lipolysis Treatment works?
The main component of the Injection Lipolysis solution is Deoxycholic acid, a naturally occurring substance in the body that aids in the breakdown and absorption of dietary fat. When injected into the problem area, Deoxycholic acid disrupts the integrity of membrane of fat cells, causing them to break down and release their stored fat content. Once released, the body's natural metabolic processes takes over, gradually eliminating the fat from the body over several weeks.
Benefits of Injection Lipolysis Treatment
Non-Surgical: Lipolytic injections offers an alternative to invasive surgical procedures like liposuction, making it an attractive option for those who prefer non-surgical approaches.
Targeted Fat Reduction: It allows precise targeting of specific problem areas, enabling patients to achieve a more sculpted and contoured appearance.
Minimal Downtime: Compared to surgical interventions, the recovery time is significantly shorter, allowing patients to return to their normal routine almost immediately
Natural-Looking Results: As the fat is gradually metabolized, the results appear natural and subtly enhance the patient's appearance.
Injection Lipolysis is a cutting-edge cosmetic treatment that offers a non-invasive way to tackle stubborn fat deposits. Given its safety record and impressive results, it has gained popularity among individuals looking to enhance their body contour without surgery. 
It is always best to consult a certified dermatologist or plastic surgeon to explore whether this treatment aligns with your aesthetic goals.