Female Pattern Hair Loss or Baldness
Gradual thinning of scalp hair occurs over a period of several years in Female Pattern Hair Loss…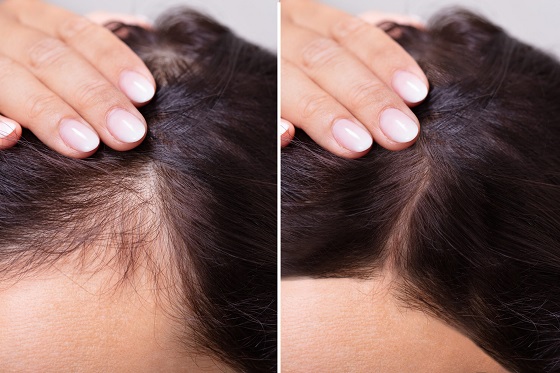 Female Pattern Hair Loss (FPHL) is a common cause of hair loss in women presenting with a diffuse reduction in hair density over the crown and frontal scalp with retention of the frontal hairline.
Gradual thinning of scalp hair occurs over a period of several years in Female Pattern Hair Loss. It may commence as early as in teens to as late as post-menopause.
FPHL tends to occur in genetically predisposed patients with miniaturization of hair follicles leading to the transformation of thicker terminal hairs to shorter and finer vellus hair follicles. 
About Female Pattern Baldness Causes and Symptoms Treatments For Female Pattern Baldness
Treatment if initiated early, effectively arrests hair loss progression. Minoxidil is the first-line therapy, others include anti-androgens. Long-term treatment is mandatory as FPHL is a progressive disease and requires sustained effect. 
Nutritional supplements rich in amino acids, trace elements (Cu, Zn, Iron, etc.), and vitamins, including biotin, are considered to be beneficial and are prescribed along with minoxidil.
PRP, an autologous preparation of plasma with a high concentration of platelets is an adjuvant therapy. It contains various growth factors and cytokines that improve hair growth. 
Other adjuvant treatments include- Cyclical Therapy, Low-Level Laser Therapy, Fractional Lasers etc.
Medical therapy may be supplemented with cosmetic concealment in those desirous of greater hair density with Scalp Micropigmentation, Hair Transplantation etc.