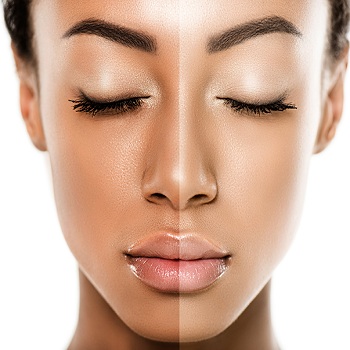 SKIN LIGHTENING TREATMENT IN HYDERABAD, INDIA
Also called as skin bleaching.
Are you tired of dark and dull looking skin? Did you know that the dark or tanned skin occurs due to deposition of melanin in the skin. The pigmentation can be due to several factors like hormonal, UV exposure, pollution, chemicals, genetics, cosmetic creams etc. All treatments of skin whitening treatment are minimally invasive or non-invasive, hence making it safe.
Skin lightening treatment helps in achieving a lighter skin complexion and also to lighten the pigmented areas of the skin and to gain the lost glow. Your Board Certified Dermatologist will examine your skin, and depending on the skin type, skin tone, skin texture, they will recommend you with the suitable skin whitening treatment for you.
Skin Lightening Treatments at FMS Skin and Hair Clinics
Different Types of Skin Lightening Treatments
Topical Medications: Topical agents are recommended for specified/localised pigmentation like kojic acid, hydroquinone, arbutin, glycolic acid, topical glutathione etc are available and will be prescribed by dermatologist with respective to the severity of  pigmentation. They have to be used in the long run and used as a maintainence therapy in conjunction with other skin whitening procedures. Oral agents like B carotene, glutathione are antioxidants which helps detoxify and protects you from harmful effects of the sun.
Chemical Peels: Chemical Peels Treatment also called as chemexfoliation. It is application of chemical agent to the skin, which causes controlled destruction of a part of epidermis. Following there is regeneration of new epidermis, reduction of melanin buildup and also helps with improvement of skin texture, tone and surface abnormalities. Depending on the strength and concentration, it might require few to multiple sessions for better results.
Laser Treatments: Q-switched lasers helps target the melanin with the help of laser beam, which is relatively painless. It helps in treatment of skin whitening, pigmented lesions, skin rejuvenation, large pores, skin peeling etc. Some of the best Q-switched lasers we use at FMS Skin and Hair Clinic are MAQx from Fotona and Tri-Beam Lasers.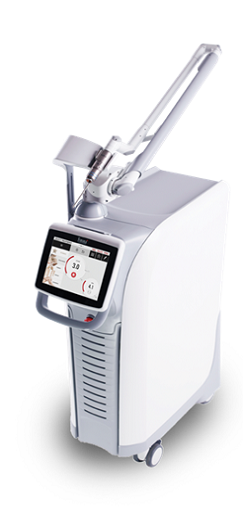 StarWalker® MaQX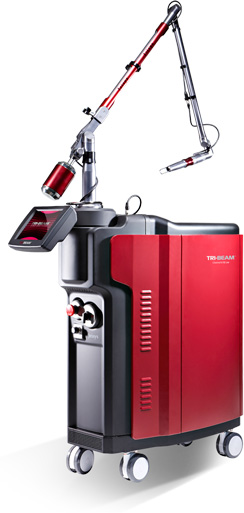 TRI-BEAM Premium™
Other Add On Procedures For Skin Lightening Treatments
Injectables : Very popularly known as "SKIN WHITENING AGENTS" contains glutathione. It is available in different strengths. Glutathione is a powerful antioxidant, which inhibits the production of tyrosinase, an enzyme necessary for melanin production. Other injectables like Platelet Rich Plasma, which releases growth factors also help in rejuvenation of skin.
Facials : Medi-Facials like HydraFacial and DermaClear are used for cleaning, exfoliation and hydration of the skin. These give instant, glowing, and rejuvenated skin.