HydraFacial treatment cost price in Hyderabad, India
Hydrafacial uses patented technology to cleanse, extract and hydrate, all at the same time.
HydraFacial treatment helps in detoxification and deep cleansing. The resultant is smooth, glowing, refreshed and youthful-looking skin with immediate results. Uses patented 4-in-1 Vortex technology to cleanse, extract and hydrate, all done at the same time. Multistep facial treatment which is suitable for all skin types. The HydraFacial treatment lasts for 30-75minutes. It can be done on face, chest and neck. HydraFacial Perk is used for eyes and lips. HydraFacial Keravive is used for scalp.
What is the procedure of Hydrafacial Treatment
HydraFacial Treatment is a 6 step process:
LYMPHATIC MASSAGE— Helps in detoxification by lymphatic drainage.
CLEANSING AND EXFOLIATION— Removal of accumulated dead skin cells & unclogging of pores
EXTRACTION— Removal of dirt and debris from the pores with painless suction
HYDRATION— Infusion with Antiox-6 serum (anti-oxidant)
FUSION—  Addition of Boosters like ZO ROZATROL, GROWTH FACTOR, DERMABUILDER and BRITENOL
REJUVENATION— LED light usage to stimulate collagen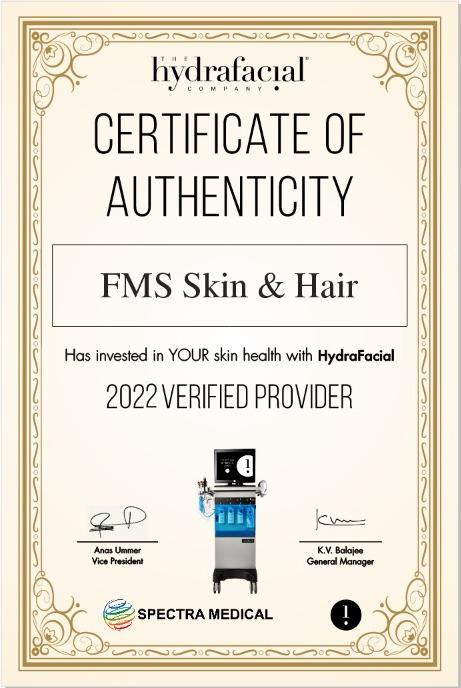 The new ELITE hydrafacial Treatment/ HydraFacial PERK works on the lips by exfoliation and hydration which gives lightly plump lips for the perfect spout. It also works on the eyes by reducing the appearance of puffiness, dark circles and diminish the appearance of fine lines and wrinkles.
This latest procedure in Hydrafacial Treatment is done on the scalp. It helps in clearing of the scalp impurities to get a healthy looking scalp.