Best Dermatologist in Hyderabad
At FMS Skin & Hair Clinic - Consult the Best Dermatologist in Hyderabad, India
FMS Skin & Hair Clinics, Hyderabad. Top Dermatology Clinic for advanced skin treatments. With state-of-the-art technology & advanced infrastructure, in-house Expertise Team of Board Certified Dermatologists & well trained Support Staff aimed to provide world-class skin treatments with the best results.
We at FMS endure in providing safe, effective & result-oriented treatments & procedures for skin-related issues. Our team of dermatologists are well trained in treating dermatology-related procedures as well as Aesthetic Dermatology treatment procedures. Every case is examined thoroughly and treatment plan suggested accordingly to the customer's preferences and concerns.
Consult for all skin related issues with Best Dermatologist in Hyderabad at FMS Skin Clinic.
Some of the Advanced Skin Treatments Available At FMS Skin & Hair Clinic
ACNE Treatments
Acne is a skin condition that occurs when hair follicles become plugged with oil and dead skin cells. It causes whiteheads, blackheads or pimples. Acne is most common among teenagers, though it affects people of all ages. Effective Acne treatment can be achieved through Lasers, Chemical Peels & other procedures.
Vitiligo
Vitiligo is a skin condition where white patches appear all over the body, neck, face, and other regions of the body; also called depigmentation. When Melanocytes in the skin die off. Then skin loses its colour causing depigmentation. This is caused when a person is photosensitive to ultraviolet rays from sun exposure. Vitiligo can be treated with UVB Phototherapy.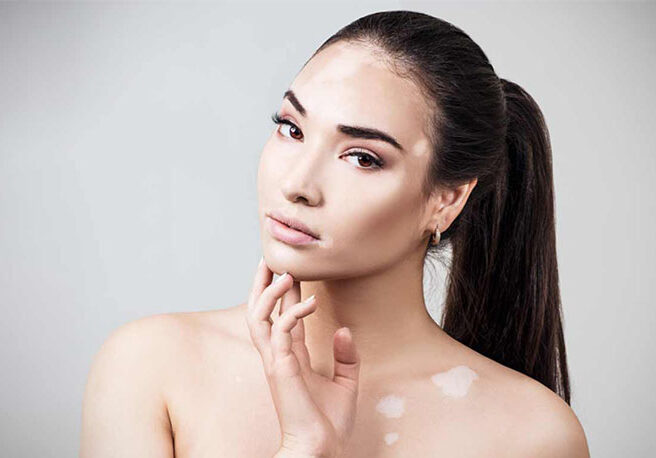 Melasma
Melasma is a common skin condition in which brown or grey patches appear on face. Most common on the forehead, upper lip, bridge of your nose or cheeks. Melasma can also appear on the other parts of the body like forearm, neck and shoulder which are exposed to sunlight. Melasma can be Treated with Tropical Creams as well as dermatological procedures like Chemical Peels, Microdermabrasion and Laser Treatment.
Stretch Marks Removal
Stretch marks develop when there is an increase in stretching of skin or excessive involution of the skin. They occur due to the disturbance in collagen and elastin fibres. They appear on lower abdomen, lower back, hips, thighs, arms, etc. Stretch Marks Removal treatment