Hair thinning and hair loss has now become a major growing concern resulting in premature baldness and loss of self-confidence. With growing stressful lifestyle, increase in salon chemicals and growing hormonal issues, it has become the most enquired and consulted dermatological concern. We have a wide variety of hair regrowth treatments, that you can opt for to gain control and prevent further hair loss.
Potential Reasons for Hair loss:
Hormonal Imbalance (such as Polycystic Ovary Syndrome) (PCOS).
Genetics (such as Androgenetic Alopecia)
Lower nutritional values (such as Iron & Vitamin deficiencies)
Thyroid Hormone imbalances
Mental and Physical stress (such as recent illness , depression)
Infection (Bacterial & Fungal)
Postpartum
Autoimmune Disorders (Alopecia Areata)
Certain Drugs (for e.g: oral contraceptives, drugs for depression, Chemotherapy)
Frictional and heat induced (such as Styling tools, repeated hair treatments)
Most sorted Hair Regrowth Treatment options:
Topical Medications:
Topical Minoxidil and Finasteride are the only FDA approved medications to treat pattern baldness.
Topical Minoxidil:
Its a topical medication available as solution, foam, gel etc. applied directly to the concerned area over scalp where hair regrowth is desired. It works by increasing blood flow to the hair follicles and promotes hair growth inducing both hair thickness and density of hair. This drug stimulates hair regrowth and prolongs growth phase of hair follicle. Low dose Oral Minoxidil can be considered an option for patients with poor compliance or who cannot tolerate topical minoxidil.
Topical Finasteride:
Always given in combination with topical minoxidil interferes with the production of more potent testosterone that is linked to baldness. Hence decreasing hair loss and increasing the hair regrowth. The dosage provided is absolutely safe. It is proven to be one of the best combinations for hair regrowth.
Oral Finasteride:
Finasteride is an oral medication that interferes with the production of more potent testosterone that is linked to baldness. Hence decreasing hair loss and increasing the hair regrowth. The dosage and duration provided by the dermatologist is safe, and will only be prescribed after a thorough assessment.
PRP Treatment for Hair:
Platelet Rich Plasma (PRP) is concentrated blood plasma that contains increased number of platelets, approximately 3 to 5 times that is found in normal circulating blood. PRP (Platelet Rich Plasma) therapy is an advanced therapeutic procedure that stimulates hair growth by the release of growth factors contained in platelets like Platelet-derived Growth Factor (PDGF), Vascular Endothelial Growth Factor (VEGF), Transforming Growth Factor (TGF) and other bioactive proteins which helps in wound healing and possible hair growth.
GFC Treatment:
GFC Therapy is the next-generation hair loss treatment. Statistically showed significant increase in hair count and thickness has been seen. Zero RBCs and WBCs involved, no risk of pain and inflammation. Less number of sessions are required to get optimum results about 4-6 sessions with an interval of 1 month, followed by maintenance therapy for next 6 months which is at interval of 3 months. GFC Treatment considerably reduces hair fall and rejuvenates hair follicles, also strengthens the hair grafts and promotes hair growth.
Difference between PRP & GFC is that it is obtained only after platelet activation hence high concentrations of growth factors are derived from platelet activation. Therefore, there is no platelet loss, and the overall procedure is simple and safe.
Low Laser Light Therapy (LLLT):
In combination with topical minoxidil and LLLT is one of the most successful treatments for Hair loss. Laser treatment is also called red light therapy, cold laser, soft laser, low level laser therapy. It is a safe form of light treatment used to treat in men and women. It works by prolonging the growth phase of the hair cycle, and it also inhibits the early transition to the regression phase. Additionally, it also helps in production of terminal hair from follicles that have been producing miniaturized hairs.
Mesotherapy:
Mesotherapy is a hair treatment that supplies vital nutrients directly to the root of the hair by microinjections which are relatively painless. These vital nutrients are FDA approved and comprise natural plant extracts and vitamins that stimulate hair regrowth.
Stem Cell therapy:
Stem cell therapy is an innovative hair loss treatment for hair regrowth. It decreases hair loss and helps new hair growth within 3 to 4 months of therapy. It is safe and effective procedure for both men and women.
While aging, the follicles tend to shrink and stop responding to the chemical signals given to it. Thus, hindering the process of hair regrowth, the stem cell therapy sends off chemical signals to the shrunken follicles, in turn, helps in regenerating and growing healthy hair.
QR678 and QR678 Neo:
A recombinant formulation, consisting of a combination of growth factors, called the QR678 hair growth factor formulation. The formulation is injected in the intradermal layer of the skin of the scalp and may prevent hair loss and stimulate hair growth & is well tolerated.
The QR678 and QR678 Neo results are proven to be effective hence has been awarded US Patent & have also secured Indian FDA approval for commercial use.
However, the trials for its usage in chemotherapy induced alopecia and autoimmune alopecia are still in the process, we are hoping this will be promising for such conditions.
Other Surgical options Include: Hair Transplantation, Follicular Unit of Hair Transplantation, Follicular Unit Extraction.
FMS Skin & Hair Clinics, Best Hair Clinic in Hyderabad, We provide the Best Hair Loss Treatments in Hyderabad. Consults us for skin and hair related issues.
For Appointment Booking. Please call us or WhatsApp at 8885060760 Or Email Us at [email protected]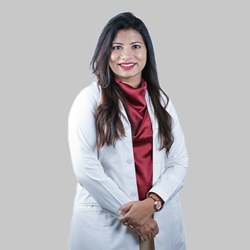 Author: Dr. Deepa Gunji