Laser hair removal is a cosmetic procedure that uses a concentrated beam of light to remove unwanted hair follicles. It's a safe and effective procedure with minimal and no side effects. Here are few pre and post-care precautions to be taken when opting for the procedure.
How does Laser Hair Removal Treatment work?
Laser Hair Removal treatment works by targeting a pigment called melanin in the hair shaft and matrix by emitting light with wavelengths ranging from 600 to 1200nm because that wavelength is absorbed by the melanin present in hair follicles and produces heat causing either damage or completely destroying the follicle. Lasers are useful for removing unwanted hair from the face, leg, chin, back, arm, underarm, bikini line, and other areas.
Pre-Care Instructions for the Laser Hair Removal Sessions
A detailed history and physical examination are required before starting a laser session for treatment success.
The area to be treated must be shaved before beginning the treatment.
No makeup/ deodorant/body oils or lotions on the day of the treatment
Avoid photosensitive antibiotics as they may cause burning of the skin during the laser session.
Avoid direct sun exposure 3 days prior to the session.
Avoid drinking alcoholic beverages 24hrs prior to the treatment.
Avoid waxing /threading/epilators in the area for at least 4 weeks Shaving is ok.
Bikini laser cannot be performed on menstruating clients.
Post-Care Instructions after Laser Hair Removal Treatment
Avoid sun exposure for at least two weeks.
Cleanse the treated area with mild soap. The skin should be pat dry not be rubbed for at least 48 hours.
Immediately after the treatment redness /itching/bumps are common which will subside within 2 hours post-procedure. If it persists for more than 2 hrs cold compressors are advised.
No makeup and deodorant for underarms for at least 24 hours.
Use sunscreen containing SPF 30 every day, reapply for 3-4 hours to prevent yourself from tanning.
Avoid taking a hot water bath or going to a sauna for at least 24 hrs.
Avoid picking or scratching the treated skin.
Avoid using any other hair removal methods or products, other than shaving, on the treated area during the course of your laser treatments, as it will prevent you from achieving the desired results.
Get Best Laser Hair Removal Treatment in Hyderabad. Consult FMS Skin & Hair Clinic for all Skin and hair-related issues.
To Book Appointment. Please call us or WhatsApp at 8885060760 Or Email Us at [email protected]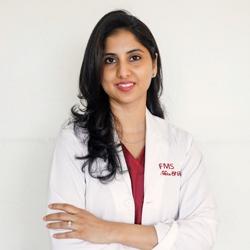 Author: DR. Harika