Laser hair removal is one of the most popular and common procedures done among women and a few men to get rid of unwanted body hair. Over the years, different technological advancements helped to improve the results of treatment. Various lasers are now available in India. to remove thick dark and light pigmented hair with proven efficacy for different skin tones. Laser hair removal is a very safe and FDA-approved procedure. In this article, we discuss in depth the various professional laser hair removal machines used for removing unwanted body hair.
Top Laser machines used in India, include the following:
Soprano ICE Laser
Nd: YAG
Diode
Ruby
Alexandrite
Soprano ICE Laser
US FDA – approved laser hair removal machine and a product of Alma which is the leading manufacturer of laser machines. It is one of the quick and efficient & painless machines. With the innovative technology, Soprano ICE Titanium comes with triple wavelengths, which include ALEX 755nm – SPEED 810nm – YAG 1064nm combines in a handset. This handheld device covers 4cm2 spots that cover double the surface area; thereby decreasing the treatment time by 40-50%. The prominent feature of Soprano ICE Titanium is its patented cooling system that decreases pain effectively while performing procedures.
Pros:
Used for all skin types I to VI and on tanned skin.
Offers a painless procedure due to its unique cooling technology
Work for thick, medium, and fine hair
No downtime. No side effects
Session duration: 15 to 30 minutes
Sessions required: 4 to 6 (depends upon the individual case)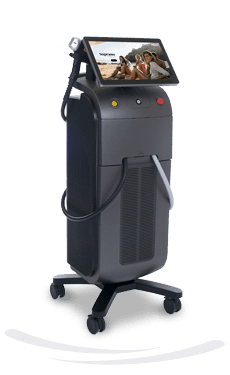 Cons:
The cost per laser session is high when compared to other lasers in the market due to its high coverage and increased efficiency.
Dermatologist opinion: Soprano ICE is the best machine for laser hair removal as its suits all skin types and with no side effects.
Nd: YAG Laser Hair Removal Machine (Fotona's Nd:YAG)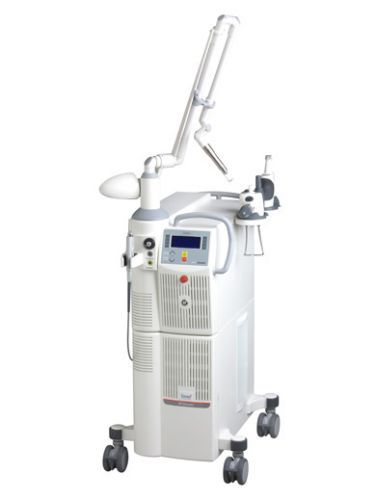 Since the mid 1990's, Nd: YAG laser in particular has become a gold standard for darker skin types and tanned skin. It uses a long–pulsed Neodynium Yttrium Aluminium Garnet (Nd:YAG) laser of 1064nm wavelength to destroy the melanin pigment within the hair follicle. Nd:YAG laser wavelength has deeper penetration, allowing to reach even the deepest hair follicles while minimizing collateral damage to the skin.
Pros:
Suitable for Indian skin tone and hair types.
Lesser risk of blistering and inflammation post-treatment.
Larger areas can be treated in lesser time.
Results in delayed hair growth between sessions.
Cons:
Not effective over thin and fine hair.
Mild pain can be experienced and may need external cooling agents.
Session required up to 4-6 sessions
Dermatologist opinion : Nd: YAG shows excellent results over the Indian skin types and the results are long-lasting
Diode Laser
Diode laser uses a wavelength of 808/810nm , is a gold standard for hair removal. The energy of light directly acts on the hair follicle tissue of the dermis, and removes the melanin of the hair follicle without damaging skin, thereby achieving permanent hair removal.
Pros:
Deep Penetration into the skin without causing any injury to superficial layers.
Suitable for medium & dark skin tones.
Offers adjustable wavelength based on skin and hair types.
Effectively treats thick and coarse hair over the chest and back, especially for men.
Cons:
It doesn't show any results while treating finer and lighter hair
Dermatologist opinion: It's the best laser hair removal machine to treat thick and dark hair in men over the beard area, chest and back. Before opting for the diode laser better to consult a dermatologist.
Ruby Laser
Ruby laser hair removal machine is also called as Epilaser, One of the first and oldest laser hair removal machines. The wavelength of the machine is 694nm, which is selectively absorbed by the melanin in the skin and body hair. It contains actively cooled sapphire which helps in conducting heat away from the skin before, during, and after each pulse of the laser.
Pros:
Provides excellent results while treating light skin with dark and fine hair
Minimal side effects due to inbuilt cooling system.
Hair regrowth is thinner, finer, and more patchy than previous growth
Less pain when compared to other laser machines
Cons:
Cannot be used on dark and tanned skin.
Slow laser repetition rate means longer treatment times.
Side effects include swelling, burns & scars.
Outdated technology when compared to other lasers.
Dermatologist opinion: In India not many clinics use ruby laser machine. This technology is suitable only for people with lighter skin tones. Before using this laser on Indian skin do a patch test to prevent side effects.
Alexandrite Laser Hair Removal Machine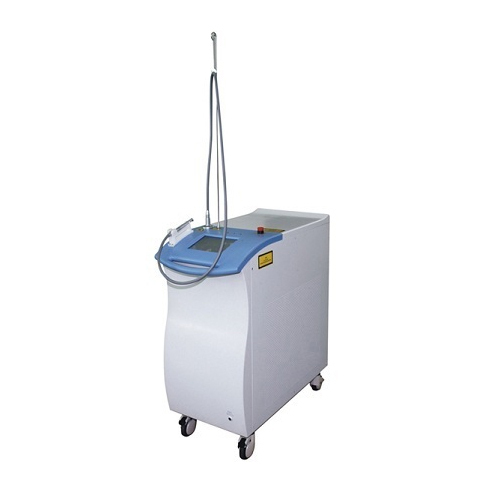 The Alexandrite Machine uses a wavelength of 755nm and is the fastest of all the laser hair removal machines. They have a large spot size of up to 18mm and high Repetition Rate and because of their spot size, can be used over the larger surface area of the body.
Pros :
With 18mm spot size treatments over the larger area are quick, underarms can be treated within 2 min.
Suitable for slightly darker to olive skin types.
Useful for removing thinner and finer hair.
Cons :
Not suitable for dark or very dark skin types
Involves risk of skin discoloration
Dermatological opinion: After Soprano ICE, this is the next best laser to be considered for laser hair removal. Consult dermatologist before opting for the procedure.
As a dermatologist, would suggest opting for Soprano ICE titanium, Nd: YAG Laser and Diode Machines, which are the best lasers with less side effects and long lasting results.
To get the best permanent laser hair removal. Consult FMS Skin & Hair Clinic Hyderabad.
For Consultation. Please call us or WhatsApp at 8885060760 Or Email Us at contact@fmsskin.com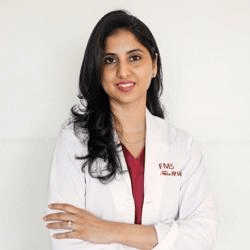 Author: DR. Harika Charukuri