One of the commonly encountered skin conditions in everyone's life is ACNE!
Here I'm going to debunk a few common myths about acne which everyone has been hearing for a long time.
MYTH: ONLY TEENAGERS GET ACNE
Acne is seen in all ages, However, most frequently appears in adolescents and teenagers. Many people start developing acne in their 20s cause of hormonal imbalance and increase sebum production.
MYTH: ACNE IS CAUSED BY DIRT AND LACK OF HYGIENE
No. Acne is not caused by dirt or lack of hygiene. But acne can be aggravated by dirt which can increase bacteria count.
MYTH: FOODS DO NOT CAUSE ACNE
Previously it was thought that acne and foods have no relation. But recent studies have shown that foods with a high Glycemic Index (sugar's) and dairy products can increase acne.
MYTH: WEARING MAKEUP CAUSES ACNE BREAKOUTS
Cosmetics that are gel based and non-comedogenic do not result in acne. At the end of the day, double cleansing with micellar water and makeup remover is to be done to prevent acne breakouts.
MYTH: PORES DISAPPEAR WITH TREATMENT
Pores do not disappear with treatment. Treatments like salicylic acid or benzoyl peroxide or facials with steam, help in loosening the debris and dirt, making the appearance of the pores less visible.
MYTH: SQUEEZING PIMPLES MAKES THEM GO AWAY SOONER
Squeezing/popping/picking pimples doesn't allow pimples to fade away faster. It can increase redness and infection which can further lead to pigmentation or scarring.
MYTH: GETTING A TAN HELPS CLEAR UP ACNE
Sunrays mainly contain UV rays which are harmful to the skin and they can increase acne. On contrary, LED light therapies like red light therapy destroy the bacteria and hence improve acne. Always using non-comedogenic gel-based sunscreen is advised.
MYTH: ACNE WILL CLEAR IF YOU SCRUB YOUR SKIN
Acne doesn't clear on scrubbing or facials. Scrubs and facials usually contain thick granules which might increase inflammation and worsen acne.
MYTH: ACNE WILL GO AWAY ON ITS OWN
Acne typically does not resolve on its own. Without treatment, acne can often progress and worsen causing pigmentation or scars.
MYTH: ACNE TREATMENT WORKS IMMEDIATELY
Acne treatment doesn't work overnight. A sincere and strict acne skin care regimen on daily basis is required for the acne treatment to work. A month or two wouldn't help in clearing the acne or blemishes caused.
Consult FMS Skin & Hair Clinics. To get the Best Acne Treatment in Hyderabad.
For Appointment Booking. Please call us or WhatsApp at 8885060760 Or Email Us at [email protected]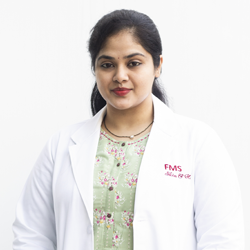 Author: Dr. Swathi