Everyone desires to have healthy skin that is free from active acne and its scars, age spots, wrinkles, and sun damage. Chemical is the solution for all the above facial issues, by causing your outer skin layers to lift and flake away. Chemical peels treatment are procedures that are done by a board-certified dermatologist. Although chemical peel works well, you may have questions about possible risks or the safety of its ingredients. Here is an article to answer all your questions about chemical peels.
What are Chemical Peels?
A chemical peel is a procedure in which a chemical solution is applied to the skin to remove the top layers of the skin by dissolving dead skin cells and debris. 
Types of Chemical Peels

Light or Superficial Peels:
It removes the outer layer of the skin by using mild acids like alpha-hydroxy acid to gently exfoliate.
Its used to treat acne, uneven skin tone, epidermal pigmentation, fine wrinkles, and dryness.
The procedure is repeated every two to five weeks.
Most Commonly used.
Medium Chemical Peels:
A medium chemical peel removes skin cells from the outer and middle layers of the skin.
Commonly trichloroacetic acid or glycolic acids or retinol are used.

Deep Peels:
These penetrate to the middle and deep layers of the skin to remove damaged skin cells.
Chemicals used in these are phenols and vary the concentration of trichloroacetic acid.
What are the types of acids?
Chemical peels contain different types of acids.
Alpha – hydroxy acids: Glycolic Acids, Lactic Acids, and Citric acids. At home, chemical exfoliants contain these acids which are mild to the skin.
Beta – Hydroxy Acids: Salicylic acid is mainly used for acne-prone skin and enlarged pores.
Trichloroacetic Acid: These are used by dermatologists in medium and depth chemical peels.
Phenol: Powerful chemical agent is useful in deep peels
Who is the right candidate for a chemical peel?
In general, all skin types and tones are benefited from light or superficial peel. medium and deep peels should be used cautiously in dark-colored skin types.
Chemical peels are not recommended for those who have:
Persons with a history of having an active bacterial or herpetic infection.
Open wounds
History of taking photosensitive drugs.
Patients who are careless about avoiding sun exposure or application of medication.
What are Pre-Peel precautions to be taken:
Initial consultation is a very important part
A detailed history of the condition to be treated, level of sun exposure, hormonal usage, and the tendency for post-inflammatory hyperpigmentation in dark skin should be considered.
Chemical Peel Procedure:
Initially the treatment area should be cleansed with soap and water.
The eyes and ears are plugged with cotton.
Surgical cap is used to pull back and cover the hair.
The treated (face) is cleansed with spirit and then degreased with acetone using a gauze piece.
Sensitive areas are protected with Vaseline.
Peeling agent is then applied either with a brush, cotton-tipped applicator, or gauze piece.
Feathering strokes are applied at the edges.
The patient experiences a stinging or burning sensation, which subsides gradually.
Fan may be used to reduce the burning sensation.
Post peel care instructions
Wash the area only with water for 3 days post peel.
Application of sunscreen and moisturizer every 3-4 hours.
Restart the medications or exfoliating agents 4 days post peel.
If redness and pigmentation persist for more than 5 days, It is better to consult a dermatologist.
Maintenance of the peel
Peels have to be repeated to obtain desired results.
Very superficial should be repeated 3-4 days
Superficial peels for 1-2 weeks
Medium depth peels 4-6 months
Deep peels every 1 year
What are the complications?
If chemical peel procedures are not performed by board certified dermatologist, then there are chances of a few complications that might occur.
Post-inflammatory hyperpigmentation or hypopigmentation is commonly seen in dark-skinned patients.
Aggravation of any pre-existing viral and bacterial infections
Persistent erythema beyond 2-3 weeks
Acne form eruptions
Allergic reactions
Scarring
Ilia formation
Lines of demarcation
Textural changes
Get the Best Chemical Peels Treatment in Hyderabad. Consult FMS Skin & Hair Clinic.   Best Cosmetic Skin Clinic in Hyderabad. 
To Book Appointment. Please call us or WhatsApp at 8885060760 Or Email Us at [email protected]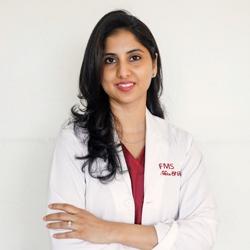 Author: Dr. Harika